4Ocean Beach Clean Up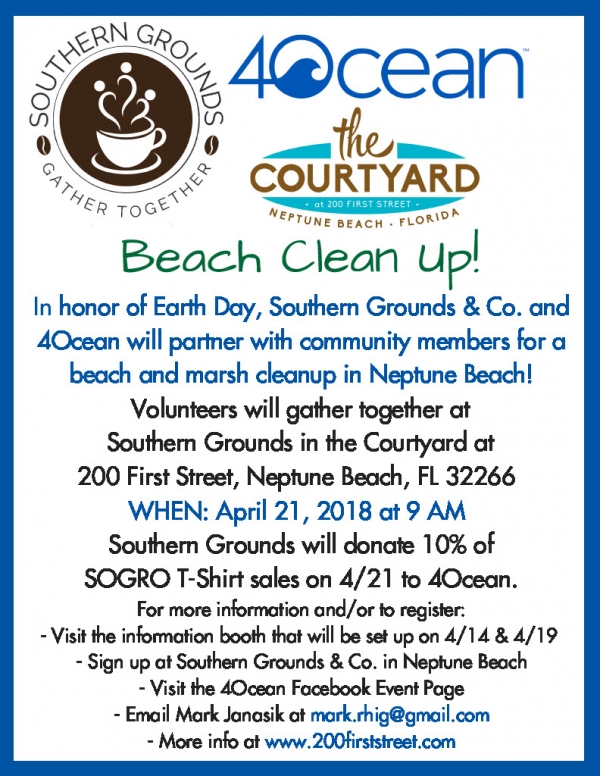 Southern Grounds & Co and 4Ocean partner for Earth Day
Saturday, April 21, 2018
9 am to noon
Hosted by Southern Grounds & Co and 4Ocean LLC, an ocean cleanup company, volunteers will gather in the Courtyard at 200 First Street in Neptune Beach at 8:30 am to head out at 9 am and then return by noon.
On Saturday, April 21, 2018, 4Ocean LLC, an ocean cleanup company based out of Boca Raton, will partner with Southern Grounds Coffee Bar & Community Members for a beach and marsh cleanup (Hopkins Creek) in Neptune Beach. 4Ocean hosts and sponsors both local and international cleanups. All of 4Ocean cleanup operations are funded exclusively through the sales of the 4Ocean bracelet, a product made from 100% recycled materials. Gloves and garbage bags will be provided.
Volunteers will gather together at Southern Grounds in the Courtyard at 200 First Street in Neptune Beach at 8:30 am to head out at 9 am. Southern Grounds will donate 10% of all SoGro tshirt sales on April 21st to 4Ocean. Opportunities to win 4Ocean bracelets and tshirts prior to April 21st will be announced via Southern Grounds social media.
Beachside Buggies will provide transportation from the Courtyard at 200 First Street to Seagate Avenue, so that volunteers can walk north and return to the Courtyard to gather at Southern Grounds & Co for refreshments. A shuttle will also drop off and pick up volunteers at the Kings Road Intracoastal area for the marsh side (Hopkins Creek) clean up.
Josh Messinger, Neptune Beach Beautification Committee President, is spearheading the marsh cleanup & volunteer drive and will hold an informational booth in the Courtyard at 200 First Street on Saturday morning, April 14th and Thursday evening, April 19th during the North Beaches Art Walk. Volunteers can also sign up at Southern Grounds & Co in Neptune Beach, on the 4Ocean Facebook event page or email Mark Janasik at This email address is being protected from spambots. You need JavaScript enabled to view it.
From Delicia, 4Ocean Director of Cleanups 4Ocean.com:
"At our cleanups we receive anywhere from 20 - 500 volunteers depending on the date, time, and location, with the average cleanup having about 100 volunteers. We predict that there will be about 100 volunteers to help with our efforts on that Saturday. Neptune Beach is one mile in length and we believe that we can help make a difference by ridding the beach of pollution in this location for both locals and tourists alike to enjoy a clean, debris-free beach."
From Mark Janasik, Southern Grounds & Co:
"One of our company philosophies is to make a positive difference in the communities we are in and give back. Partnering with www.4ocean.com helps us do both. We hope that you will see the good that this cleanup can bring and that it will be a reminder to everyone to always help to do their part and keep our oceans and beaches clean."
For more information please contact Mark Janasik at 904.535.3006 or This email address is being protected from spambots. You need JavaScript enabled to view it.
Mark Janasik
Southern Grounds & Co
200 First Street
Neptune Beach, Florida 32266
Phone: 904.853.5473
www.sogrocoffee.com
Delicia Pop
4Ocean Director of Cleanups
Phone: 561.270.0650 ext. 115
www.4Ocean.com