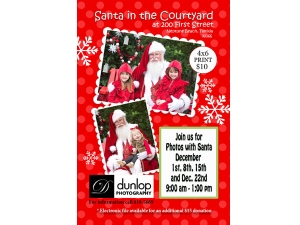 Santa Claus in the Courtyard
Saturday mornings from 9am-1pm
December 1st, 8th, 15th & 22nd
Share your Christmas wish list and have a photo taken.
In 2003, the businesses at 200 First Street decided to sponsor `"Santa in the Courtyard", an opportunity for children and families to share their Christmas wish list and have a photo taken. Local teenagers volunteered to take photos and a local Atlantic Beach resident, Tom Trechel, grew his beard out in the fall and became Santa Claus each year, finally buying his own Santa Suit. "It has become an annual tradition for my family, as well as many beaches families and my kids truly believe this is the 'real' Santa", said Neptune Beach resident, Paola Keeney.
Fast forward a decade and Dunlop Photography has added a more professional photo experience as well as their own fundraising causes. Santa Tom has retired, and there is a new "real" Santa Fred that has taken his place.
Deanne Dunlop and her husband, Gus, offer a 4x 6print for a $10 sitting fee, which basically offsets the cost of Santa and supplies. But they found that many participants were willing to also make a donation to a good cause for a digital copy of the photo with Santa."We have never advertised or promoted our philanthropic efforts. We have always approached it as a fun family, community event with a bonus" said Deanne Dunlop. "My daughter, Alivia, has manned our display table and welcomes each family and talks with them about our charitable causes and the programs she is personally involved.
Over the course of many years, Dunlop Photography raised funds for PedsCare a pediatric program of Community Hospice, Dreams Come True and donated to physical improvements of the Beaches Little House in Jarboe Park during the 100th Anniversary Celebration of Girl Scouting in the US.
This year they have selected Smile Camp, a day camp for children with special needs sponsored by Girl Scouts of Gateway Council. Jaffi's and Kyds Boutique Owner, Emilie Christenson, said "I think it's important to share our history and how the event has morphed into an event families look forward to and return to our Courtyard for every year. The fact that we can support Community PedsCare Smile Camp and various charities over the last few years is a bonus."
Call Deanne Dunlop Photography at 904.610.5669 for more information.
Deanne Dunlop Photography
217 First Street
Neptune Beach, FL 32266
www.deannedunlop.com
904.610.5669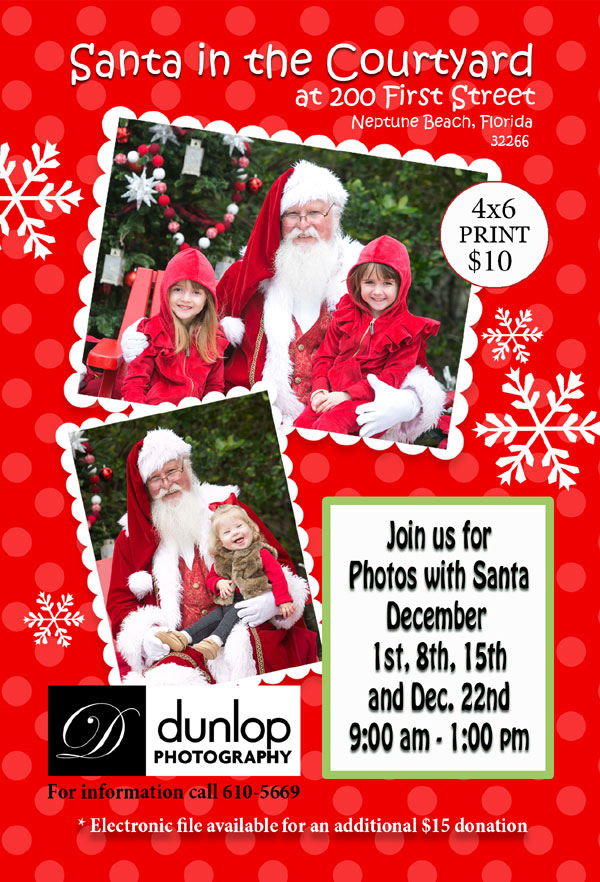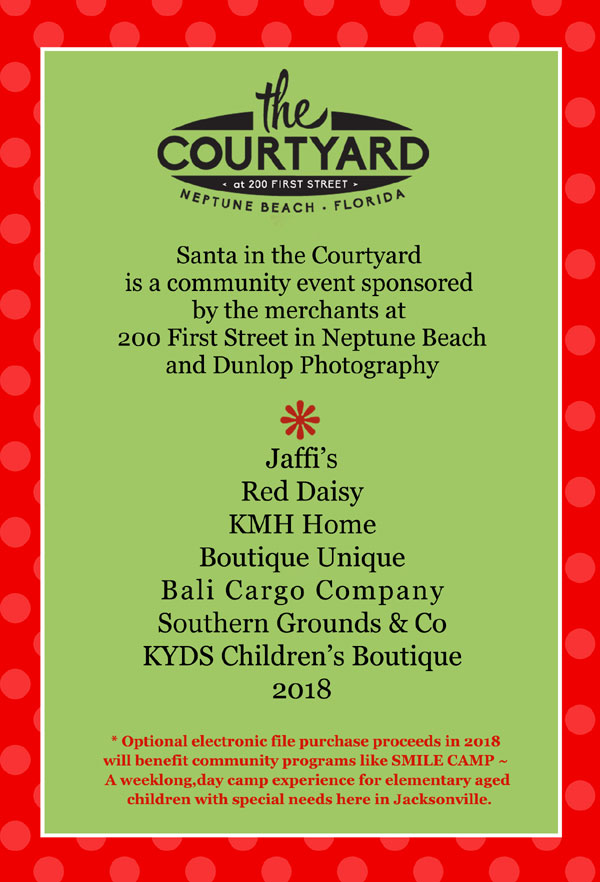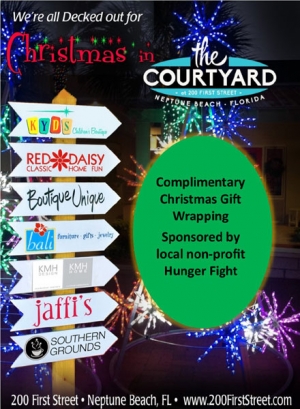 Complimentary Christmas Gift Wrapping in the Courtyard at 200 First Street
Sponsored by local non-profit Hunger Fight
Hunger Fight Mission
"To end hunger and illiteracy through the provision of nutritious meals and books to children, seniors and families in need by informing, engaging and mobilizing communities and partners."
Hunger Fight Vision
"All children and families will have access to food, book programs and the tools necessary to achieve success in future endeavors."
"With 1 in 4 children in our communities lacking 3 meals a day and 46% of our 3rd graders not reading to grade level, Hunger Fight's programs are imperative to to their success. Hunger Fight is a local non-profit, providing 2 programs geared to helping children and seniors. Our programs, 'Feed the Backpacks' and 'Feed the Need to Read' provide nutritious meals to children and seniors in need and age appropriate books to preschoolers from birth to age 5. At Hunger Fight, we believe every child should be well fed and well read. 'Food for their Bellies', 'Books for their Brains'."
Dates you can find Jessica and her Hunger Fight team wrapping gifts in the Courtyard:
November 23 (Black Friday) 10a-6p
Saturday, December 1 3p - 5:30p
Thursday, December 6 10-6
Friday, December 7 10-6
Thursday, December 13 10-6
Friday, December 14 10-6
Saturday December 15 10-6
Sunday, December 16 10-6
Thursday, December 20 10am-9p
Friday, December 21 10-6
Saturday December 22 10-6
Sunday, December 23 10-6
For more information contact:
Jessica Crockett at Hunger Fight
P 904-374-5623
M 904-710-8925
E This email address is being protected from spambots. You need JavaScript enabled to view it.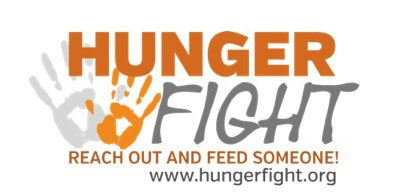 Food for their Bellies, Books for their Brains