Every Third Thursday, 5pm-9pm, RAIN or SHINE!
North Beaches Artwalk is a free event held the third Thursday of each month from 5 to 9 pm. Featuring many local visual artists and live performers. Artwalk is held at the Atlantic Beach & Neptune Beach Town Centers. Also at Adele Grage Cultural Center with a different featured artist every month. With over 55 participating artists, Artwalk is a diverse art destination & shopping experience for the entire family. Local venues set the backdrop for this great monthly destination and community gathering.
The overall mission of Art Walk is to expose the community to the vast number of local artists right here at the Beaches and we thank all the local shops & restaurants for making it possible! We welcome talent from all over Jacksonville to join North Beaches Art Walk. Always a great time....come see what's going on at Artwalk!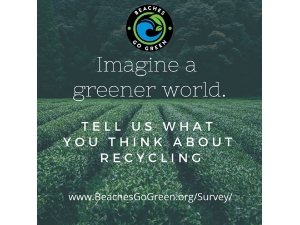 Beaches Go Green is working with the Cities of Atlantic Beach, Neptune Beach and working outward to Jax Beach and Ponte Vedra and beyond to make positive changes in our beach communities. They hope to encourage residents, local businesses and the cities to be more conscious of the choices that they make when it comes to what they buy, how they handle their waste & recycling, etc.

We are conducting a survey available at www.beachesgogreen.org/survey. The data by city will be used to compel the local cities of AB, NB and beyond and the local businesses to be MORE environmentally aware and make changes where they can!
PLEASE help get this survey out to as many beach residents as possible! We need lots of responses to show our local cities and businesses to show them that we are ready for change and want better options for taking care of our beach environment. The survey will be live until 12/31/18. It only takes 5 minutes to complete! We cannot do this alone. This is for ALL of us and our beach community!